Bharata Mata Extension For Organic, Research and Environment (BeFORE) is an outreach wing of Bharata Mata College. BeFORE was founded in the year 2017 and it is a society registered under the Travancore Cochin Literary, Scientific and charitable societies Act, 12th of 1955. Through BeFORE, Bharata Mata College take the opportunity to upgrade our social commitment towards the society and also enrich our interest in networking and involving with the various stake holders for the upliftment of the society. 
BeFORE has been actively involved in the community as a change agent from its founding, through the efforts of the students, faculties and staffs of Bharata Mata College. BeFORE has so far initiated a number of collaborative endeavors with various stakeholders in the domains of education, health, women entrepreneurs, disaster management, green initiatives, etc. through government-funded projects, CSR funding's and individual sponsorships.
As a pioneer institution, we understand that it is the duty of the college to stand for the environmental, demographic, socio economic development of the society and are catering to the requirement to the maximum. Since 2017, the contribution of BeFORE could be seen spread in various areas especially towards various women entrepreneurship projects, tribal development, educational support programmes, research studies, Transgender support programmes, water and sanitation programs etc.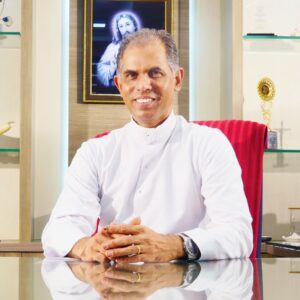 "World over NGO's have demonstrated that they play a significant part in bringing about social change for the betterment, development and progress of their society. We believe that it is the duty of NGO's  to guarantee that the Government responds to citizens' concerns and solves their issues  thereby  helping  the Government  also to get  a people friendly image. The main purpose of forming an NGO is to serve the underprivileged people who face scarcity of basic necessities like food, shelter, clothes, education, human rights, sanitation, and healthcare.
The Moto of Bharata Mata College is " For God and Country' making it a necessary moral duty  for the Management, staff and students to do their bit to liberate subjugated populations from their despair and suffering. Bharata  Mata Extension for Organic Research and Environment (BeFORE ) was established in 2017 to channelize the latent potential of Bharata Mata Community for serving our social commitment and to play a role in community development by assisting communities in developing their social capital, and human resources; enhancing their knowledge and skills. We work with Government, philanthropists, Corporate CSR funds in collaborative projects in the areas of educational support, tribal development, women entrepreneurship initiatives, water and sanitation programmes, transgender support programmes, research studies and the likes.
Steve Goodier said "Money is not the only commodity that is fun to give. We can give time, we can give our expertise, we can give our love, or simply give a smile. What does that cost? The point is, none of us can ever run out of something worthwhile to give."
- Rev. Fr. Dr. Abraham Oliapurath